Walking Through History
Tours in DeLand's Three National Historic Districts
Reservations
Reservations required at least 24 hours in advance. Call 386-740-6813 to reserve your tour.
Space is limited to assure appropriate wellness precautions.
Admission
Northwest and Stetson Historic Districts
$7.50 for WVHS members
$10 for non-members
Downtown Historic
$7.50 for WVHS members
$10 for non-members
The neighborhoods surrounding the West Volusia Historical Society complex are rich in history and filled with architectural gems, and DeLand is the ideal venue for a walking tour - well-preserved historically and compact. Explore landmarks on Woodland Boulevard and the beautiful avenues of Minnesota, Clara, Rich, Michigan, Indiana and New York, and hear stories about the intriguing people who lived and worked there in walking tours led by experienced WVHS docents.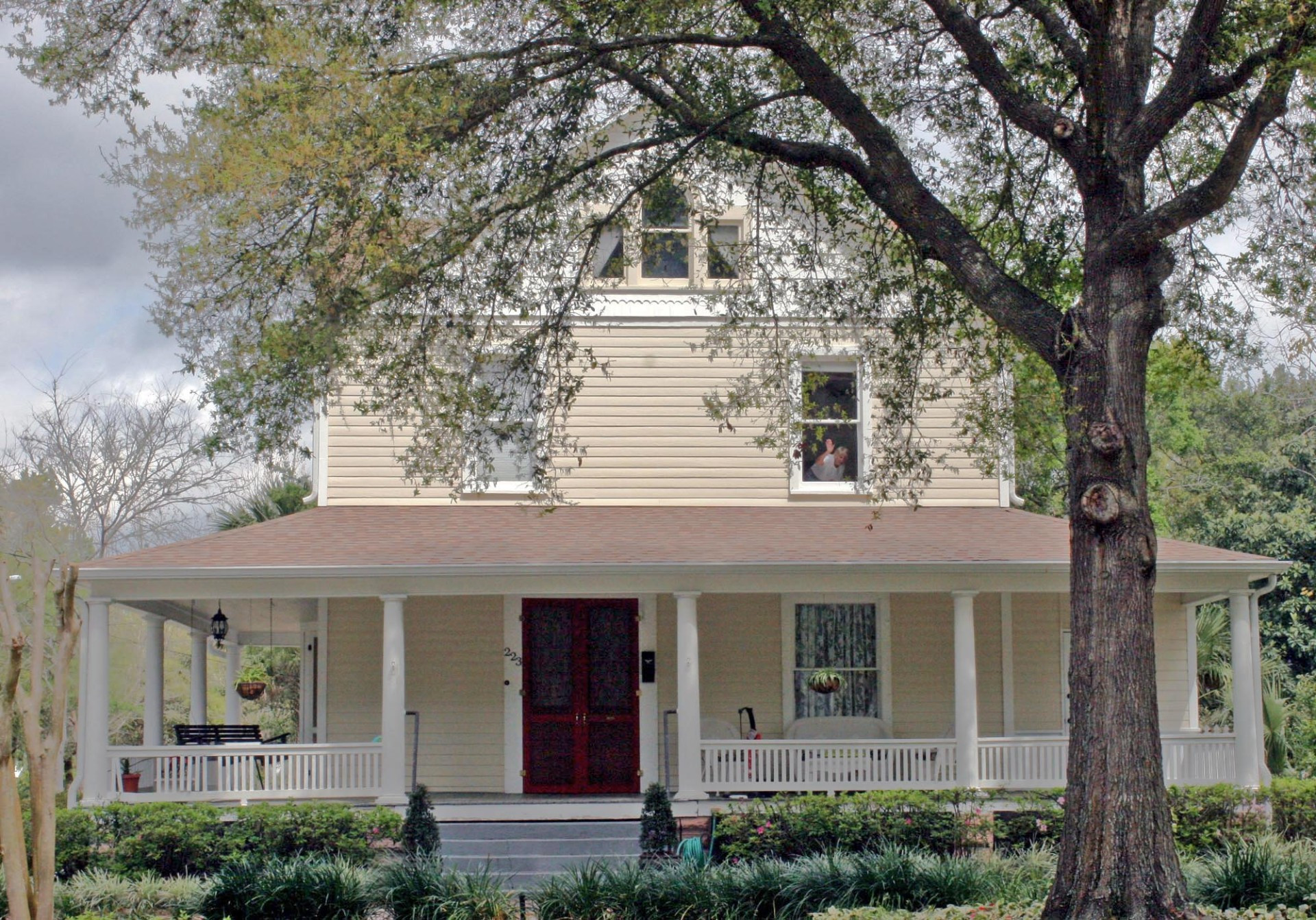 The hour-long tour, offered on Wednesdays, highlights the Old Northwest Residential District, following a beautiful pathway on West Michigan, West Minnesota, and North Clara Avenues, and the historic Stetson University Campus District on North Woodland Boulevard. Hear the stories of well-known DeLand pioneers and Stetson personalities and the houses they lived in.
Learn to identify a variety of architectural styles, from frame vernacular farmhouses built at the end of the 1800s, to Colonial Revival homes built in the early 1900's and Spanish Revival and Italian Renaissance Revival of the 1920's, and learn the history of early commercial structures.
You'll hear stories of DeLand's frontier past, of early entrepreneurs - Allen, Dreka, Fish, Shimer, and Stetson personalities - Hulley, Stover, Farriss. You'll learn about the grand hotels, the great freeze, the booming 20's and the busted 30's, WW2 dive bombers, 1960s civil rights confrontations, downtown's decline and ultimate rebirth of one of America's Best Mainstreets.
Tour Dates
Wednesday, November 8, 2023
Wednesday, November 29, 2023
Wednesday, December 13, 2023
All tours depart at 10:30 am. Please arrive at 10:15 for check in
Northwest Residential & Stetson Historic Districts Tour departs from Conrad Center, 137 W Michigan Ave, DeLand

Downtown Historic Tour departs from the Lobby of the Courtyard by Marriott, 308 N Woodland Blvd, DeLand
Northwest Residential District and Stetson University District Tour
Downtown Historic District Tour
The hour and 15 minute tour, offered the first Thursday of every month, highlights historic downtown DeLand of the 1880's - 1920's - a pristine college town known as the "Athens of Florida". From these streets you will hear stories of the founders as they struggled through fires, freezes, booms, busts and pandemics to make DeLand one of the most celebrated cities in Florida