The West Volusia Historical Society was founded in 1973 as a 501 (c)(3) not-for-profit, all-volunteer organization dedicated to researching, preserving and publicly sharing the rich history of West Volusia County. The Society operates The Henry A. DeLand House Museum and Conrad Research Center for the City of DeLand and curates medical and African American culture exhibits in the City's DeLand Memorial Hospital and Veterans Museum
For more than 40 years, the WVHS has delivered quality educational programming to residents and visitors, fostered local history research, and encourage heritage preservation.
The role of the WVHS is essential because supporting history nurtures personal identity, teaches critical skills, stimulates economic development, fosters engaged citizens and assures legacy.
Other historical organizations in DeLand operate under different management and are not affiliated with West Volusia Historical Society.
William (Bill) J. Dreggors, Jr. was associated with the history and imagery of the DeLand area for decades. A fourth generation Floridian, he attended DeLand HS, served inthe US Navy and returned to work with
Florida Power for 42 years before retiring to begin his second career as a Folk Historian.
From childhood, Bill had a strong interest in the history of his native surroundings and shared knowledge gained throughout his adult years. In his well-known character role as Henry DeLand, he built enthusiasm for history in young and old alike.
Bill created over 120 programs about the early years of Volusia County and many other Florida areas, focusing on historical points of interest, authenticated little known facts and wove colorful folk stories dealing with early Florida growth.
He was instrumental in the restoration of the Henry Deland House Museum and has served as a leader and living historian with the WVHS, which he helped found. His collections of electrical equipment and other artifacts are on display in DeLand's Memorial Hospital and Military Museum. Bill's vision and mission for living history continue on in the programs and services associated with the WVHS's community outreach.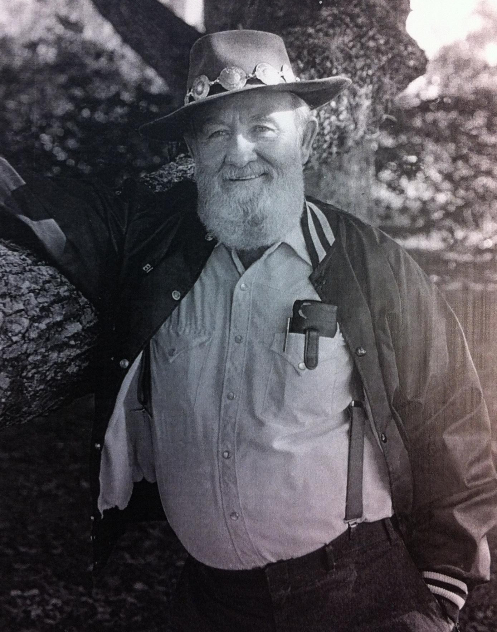 West Volusia Historical Society
William (Bill J. Dreggors
1926 - 2017