Socie-Tea
Sunday, May 15, 2022 1 to 3 pm
West Volusia Historical Society Conrad Center
137 W Michigan Avenue, DeLand
Afternoon Tea is a light meal composed of three courses of food with a pot of tea. Savory course with tea sandwiches, scones served with clotted cream and jam, and the third course of sweet pastries. Everything is bite-sized and eaten with fingers. Afternoon tea in England was enjoyed on low tables with comfortable chairs and sofas in the drawing room...hence another name for Afternoon Tea is Low Tea.
This afternoon tea celebrating a fashionable social networking activity of the 1920s, is open to all who love history and the adventure of exploring how things were done 100 years ago.
1920s tea party style attire is encouraged, but not required. Check out some tips below.
Tickets:
$25 for adults
$18 children 16 and under
Payment required at the time of reservation.
Call 386-740-6813 to RSVP
Reservation deadline Thursday, May 12th.
Seating is at tables for four. Let us know who is in your party when you call for reservations.
High tea on the other hand was a working class family evening meal or supper consisting of hearty dishes; High Tea was named for the high dining table where supper was eaten. So why do people call what is actually an afternoon tea - High Tea? Probably because they think it sounds fancier.
Tea Etiquette
Afternoon tea can seem intimidating but once you know that etiquette is basically good manners, you can have a delightful time. Here are some basic helpful rules.
Dress appropriately. Follow a smart casual dress code. You don't have to be fully decked out but stay away from jeans and sneakers.
Phones, glasses and other personal times off the table; phone off.
Hold the teacup by the handle and with pinkie finger down.
Stir up and down (6 pm and 12 am), gently folding in sugar or milk, carefully avoiding clanging the sides of the teacup. Use milk and sugar only for black tea.
Don't drink from your teacup with the teaspoon in it - in fact don't leave your teaspoon in the cup or put it in your mouth.
Saucer stays on the table.
Don't blow on the tea to cool it and always take small sips when drinking.
Eat with your fingers. Tea sandwiches eaten first, in 2 - 3 bites. Break the scone into small pieces, slather each bite with cream and jam using a knife. Never dunk your scone into your teacup.
Dab with your napkin - don't wipe - and don't lick your fingers, no matter how tempting.
Place used utensils on the right side of the plate, in the 4:20 position - fork tines up and knife blade facing you.
Place napkin on the left side of the place setting when getting up. Placing it on your chair is recommended by some - either way, don't put the napkin on your plate.
Source: Taken from www.ohhowcivilized.com
As WWI ended in 1918, it brought about huge changes in style for both men and women. For women in particular, the war marked a transition from the domestic sphere to the public one. Women had come to enjoy the loose and comfortable clothes - free of frills, excess fabric and constricting corsets. Most styles that came out in the '20s were designed to be relaxed - short skirts and loose, dropped waists. Women were expanding their lives and finding new spaces to occupy and needed new clothes. Possibly the best element of this style is the cloche hat.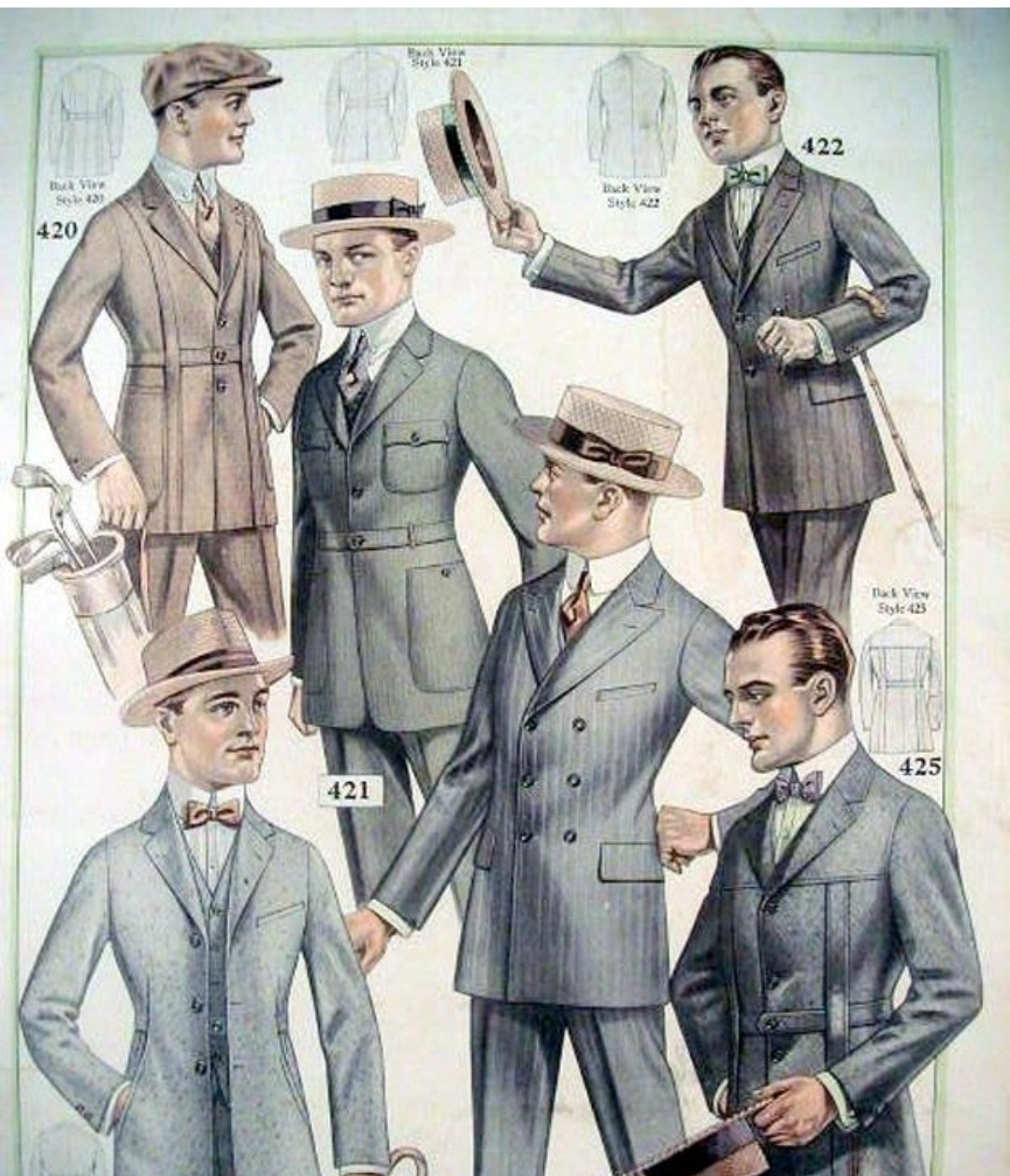 Tips to Dress for an Afternoon Tea
"Smart Casual," which falls between business casual and casual.
For women, something you would wear to a garden party (a tea-length dress in spring colors). Loose fit drop waists give a nod to the '20s, and long and maxi length skirts are a modern take on afternoon tea.
Avoid sequins, fringe, feathers, sleeveless or above the knee "flapper" dresses and headbands.
Ladies can also be "smart casual" in stylish slacks with a bold blazer.
Add a cloche hat or sun hat, handbag, wrist-length gloves, beaded necklaces, and maybe a shawl.
For the gents - collared shirts. Afternoon teas generally do not require jacket and tie, but you might want to make a festive fashion statement from the '20s.
For a trendy, yet dapper option, simple black or grey trousers, white shirt and cardigan sweater.