Robert M Conrad Educational & Research Center
137 W Michigan Ave. DeLand, Florida
Open Wednesday and Saturday 12 noon - 4 pm.
The Henry A DeLand House Museum
Docent-led tours are suspended
Burgess Pavilion & DeLand Memorial Hospital Exhibits
230 N. Stone Street DeLand, Florida
Open Monday-Friday 12 noon - 4 pm.
​Phone: 386-740-6813 .
Email: delandhouse@msn.com​
The Robert M. Conrad Research and Education Center is open on a limited basis for research from 12 noon to 4 pm on Wednesdays and Saturdays. Researchers are strongly encourage to make appointments to assure appropriate Research Assistants are available.
Tours of the Henry A. DeLand House are suspended. Exhibits in DeLand Memorial Hospital and Veterans Museum and Burgess Pavilion are open on a limited basis.
Click here for more details about visiting the Conrad Center
Our new Makers' Guild Gift Shop features items made by our own Makers' Guild. Even though access to the Historical Society is limited during the pandemic, a selection of items is available with no contact pick up.
Statement from the West Volusia Historical Society Board of Directors ​on history and diversity. Read it here.
Saturday, November 14, 2020. Open Air Rummage Sale.
A holiday season kick-off event held outside in the beautiful pavilion of The Garden Shop of Select Growers, DeLeon Springs. Gingerbread house contest. Bake Shop. Makers' Guild gift shop. Craftsmen demonstrations of heritage crafts. For information about the Gingerbread Contest click here.
Kitchen, household, outdoor & gardening items, tools and hardware, jewelry, games, books, toys, decorative & small pieces of furniture. Donations accepted November 3rd - 7th.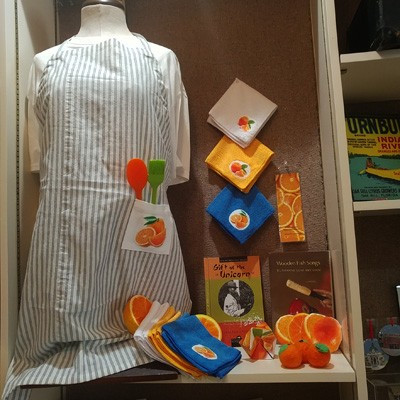 A workshop to explore the history of the humble round button and create fun button jewelry and a button doll. For more information and to find out about more Hands-on-History Workshops scheduled this Fall, click here.
Saturday, September 19, 2020. 10 am - noon. Cute as a Button
Saturday, September 26, 2020. Makers' Guild Bloom-a-thon!
Looking for a creative project and interested helping the Historical Society prepare for our Christmas in Bloom event? If you can sew, cut, tag, sort, staple, paint or glue you can create fun items for our Gift Shop. Choose a 2-hour work time between 10 am and 4 pm. Call 386.740.6813 for more information.
Sat & Sun, November 21 & 22, 2020 4 - 7 pm. Historic Oakdale Walk
Glimpses of WWII: Volusia County Heroes. Historic Oakdale Cemetery. Story-telling by WVHS reenactors, featuring conversations between local WWII soldiers, all of whom hailed from West Volusia or chose to make this area home after their service.
Saturday, November 28, 2020 10 am - 5 pm. Christmas in Bloom
Christmas in Bloom Gingerbread Contest
Saturday, October 17, 2020. 10 am. Virtual Parlor Chat
Meet Dr. Frances Dickinson, ophthalmologist, surgeon and cousin to Susan B. Anthony who worked tirelessly for Woman's Suffrage. She and her family have deep local roots in Orange City. Portrayed by Caryn Long of the DeLand House Players.