West Volusia Historical Society
To preserve and promote the history of West Volusia County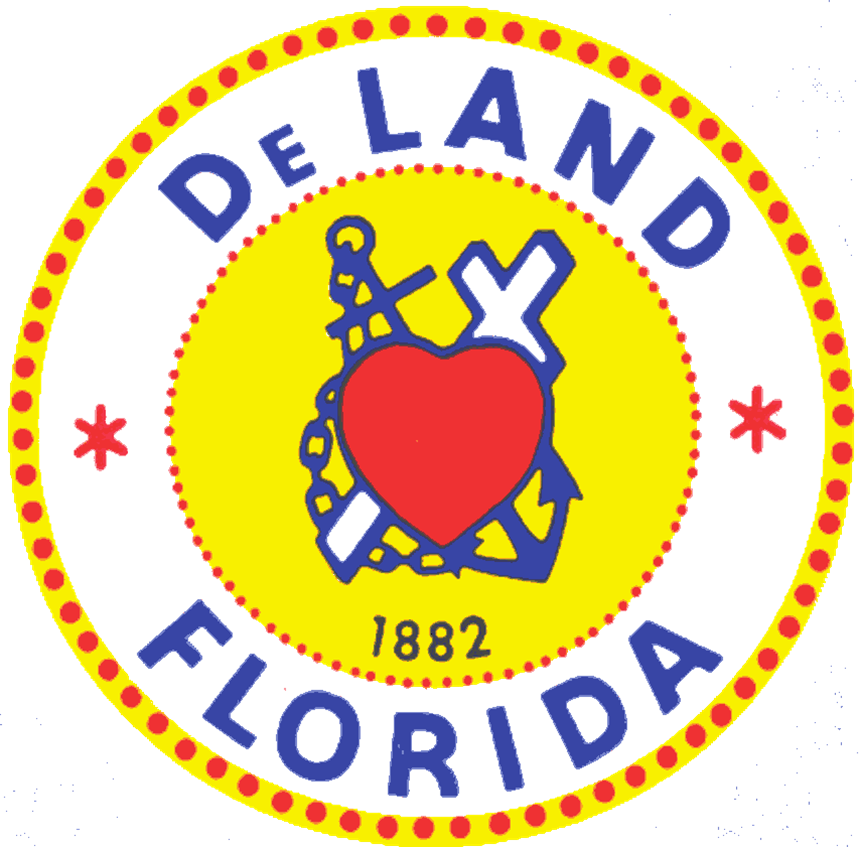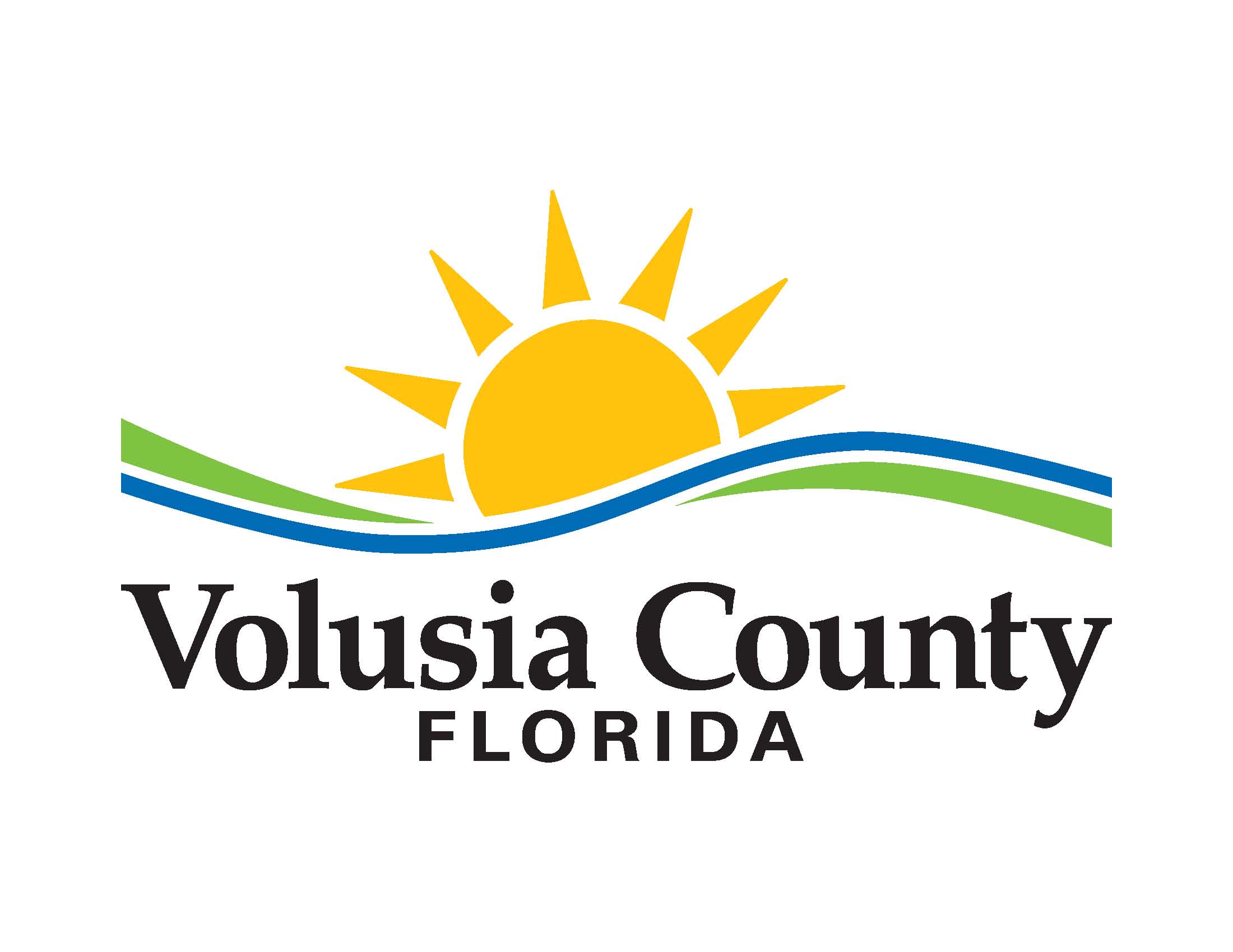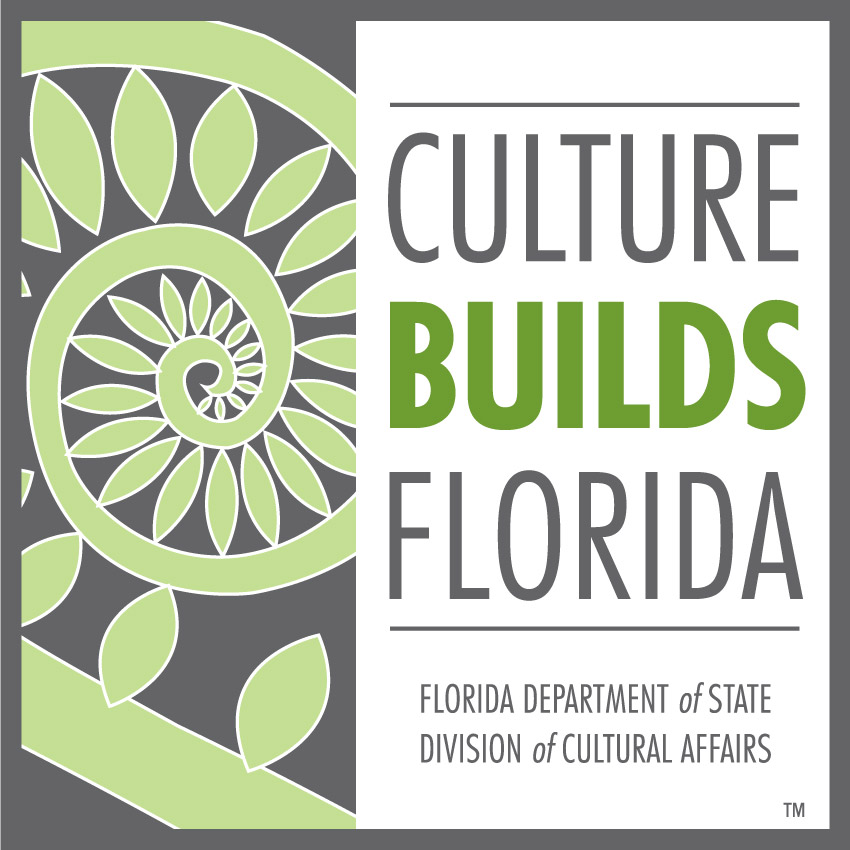 Stories About the Homes and Early Owners​
2018 Tour of Historic DeLand Homes
​Dec. 8 and Dec. 9 - noon to 5 pm​​
In 1878, this farmhouse, with a separate "summer kitchen" was built in a vast orange grove in DeLand by Col. Christopher Collins Codrington, a sugar cane planter from Jamaica. Sometime later a two-story" L" was added, and in 1925 the house and kitchen were moved about fifty feet north to allow for the construction of an Italian Revival house on West MN. Codrington came to Jacksonville FL shortly after the Civil War to pursue a mercantile career and in 1878 moved to DeLand. He was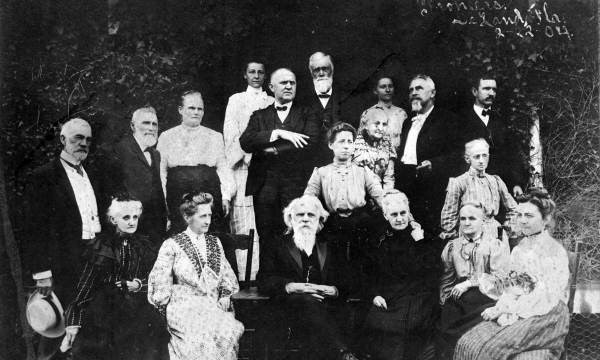 This property was obtained under a federal land grant in 1877 by Rev Menzo Leete, a pioneer Methodist clergyman who is credited with delivering DeLand's first sermon and was dual editor of its first newspaper. He was married to Henry DeLand's sister, Amelia (for whom Amelia Avenue is named), and later sold the property to his brother-in law Henry. Around 1925, Ellen Carl, pioneer from South Dakota built the original house as a bungalow; she lived there with her son and his family until her death in 1928. She and her husband moved to DeLand in 1910 having spent many adventurous years as pioneers in Black Hills, SD - a state mostly inhabited by
Members of DeLand Old Settlers in 1904. Henry DeLand, seated center. Mrs. C.C. Codrington seated 2nd from the right. Helen DeLand seated far right. Christopher O. Codrington standing far right. Mrs. C. O. Codrington is standing 3rd from right.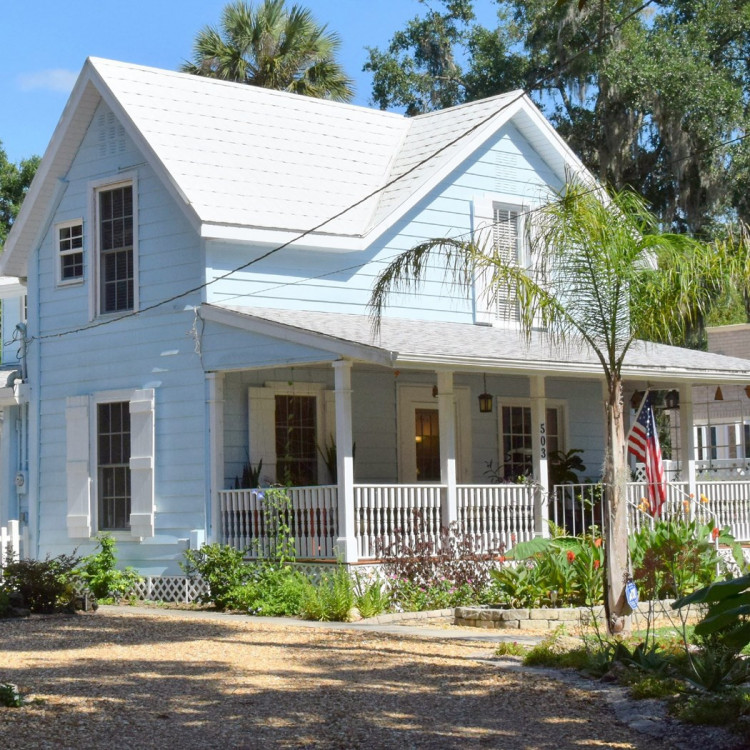 editor of the

Florida Agriculturist

and an agriculture and citrus experimenter who introduced new semi-tropic plants to Florida. He is credited with giving Henry A. DeLand the idea for founding the Academy that is now Stetson University. His son Christopher O. Codrington built the Opera House, which is on Woodland Blvd at Rich.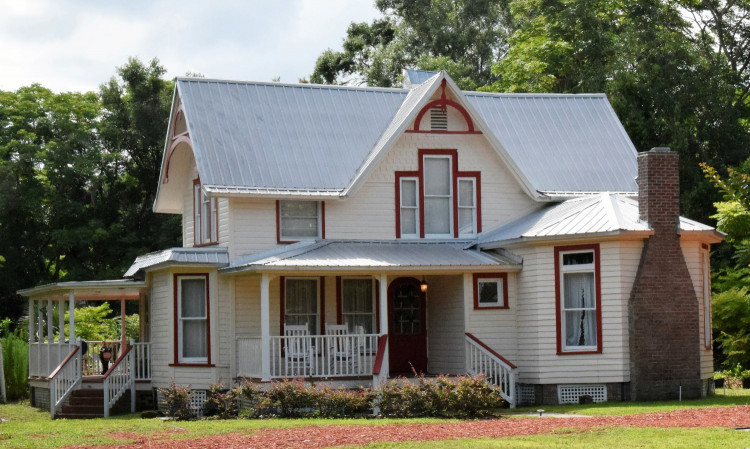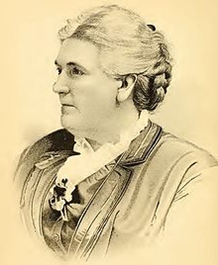 Once known as the "Sans Souci Cottage" and built about 1885, this is one of DeLand's oldest existing residences. It is a great example of Folk Victorian, a popular vernacular design. Notable architectural features: steeply pitched cross-gable roof with decorative trusses and wood shingles. It features an entrance porch and polygoal bays, and when rehabilitated, much of its styling has been preserved. Originally set in a large orange grove that touched Clara, MN, FL and MI Avenues, the land was later subdivided to accommodate
neighborhood residential construction. First owner of the house was professional educator Frances Wood Shimer, who in1853 founded Mt. Carroll Seminary - a pioneering institution in Chicago. The Seminary later became Shimer College - an institution known for its Great Books curriculum. She moved to DeLand to build this retreat and retire.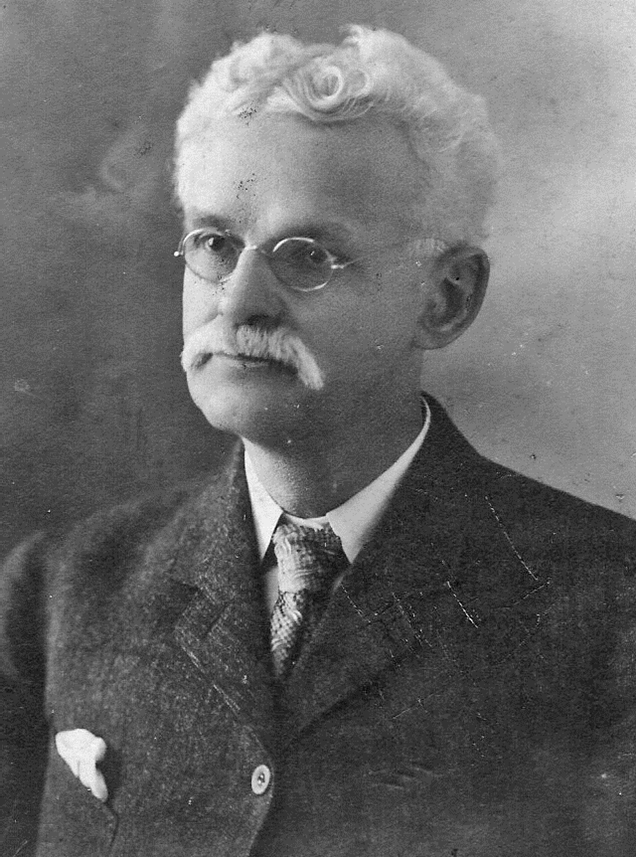 Native Americans. In the early 1950s new owners made many renovations, including removing a front porch, and later an apartment was added in the back. This frame home reflects Colonial Revival influences with symmetrical facade, two-story main block and one-story extensions on each side. The entrance is centered. Through the year loving home owners have made a number of major renovations.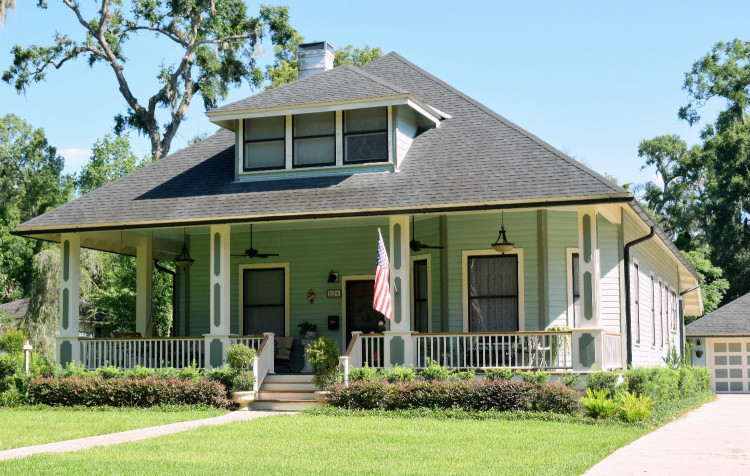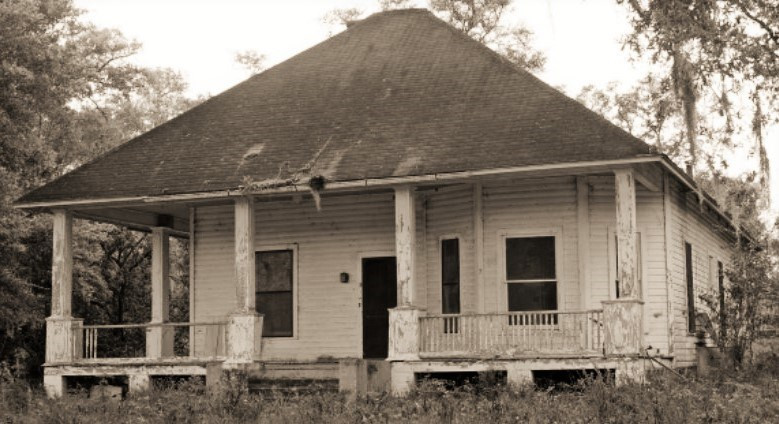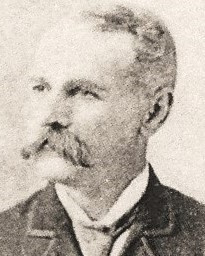 Frame Vernacular was a prevalent style of residential architectures in Florida and in DeLand during the Early Progressive Era of the early 20th century. Through a number of restorations, this house has retained most of its architectural integrity. Notable architectural features of the house include hip roof, symmetrical facade and an end porch integrated under the main roof that is supported by square posts. Recently this house has been
lovingly restored to its original beauty- disassembled board by board (over 300 lbs. of nails were pulled from the boards) - and rebuilt on a nearby lot to the exact original dimensions. Built about 1905 it is known as the Silas Wright House. Silas Wright was the son of DeLand's first mayor, a prominent merchant and president of the Old Settlers Association.
This vintage 1910 Colonial Revival home was built by James Augustus & Mabelle Allen. His parents James F. and Calista Allen were DeLand pioneers from Eau Claire, WI. Father and son were both undertakers as well as store proprietors - an early logo of the family business was "Furniture and Funerals". The last partnership become known as Allen-Summerhill Funeral Home. Colonial Revival, with hip roof, closed eaves, veranda porch, and balustrade, was a dominant style reflective of early houses on the Atlantic Seaboard. Although there have been additions and restorations, the house looks much as it back in the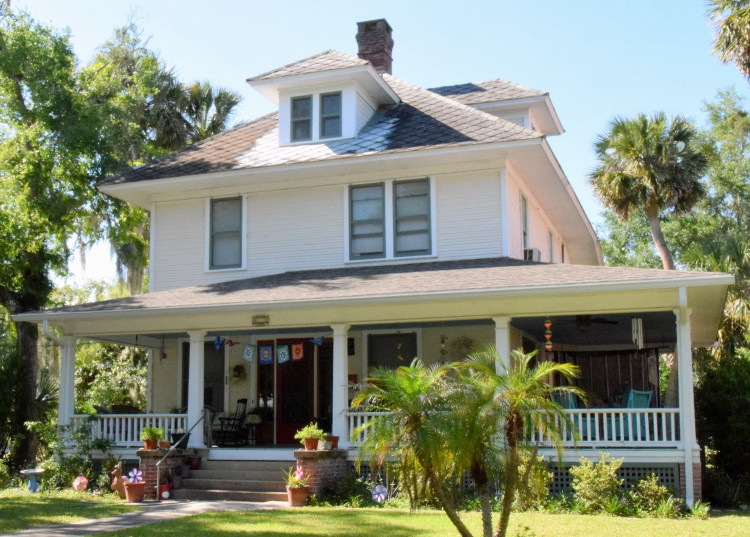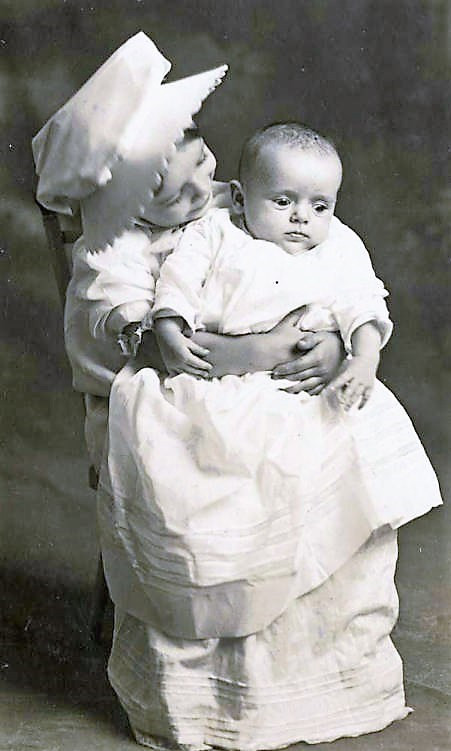 day, perhaps in part because this home has been in the same family for all its life - 108 years; James and Mabelle's daughter Elizabeth (Aunt Lib) lived in the home from birth through her 99th year.
Elizabeth Allen held by sister Kathleen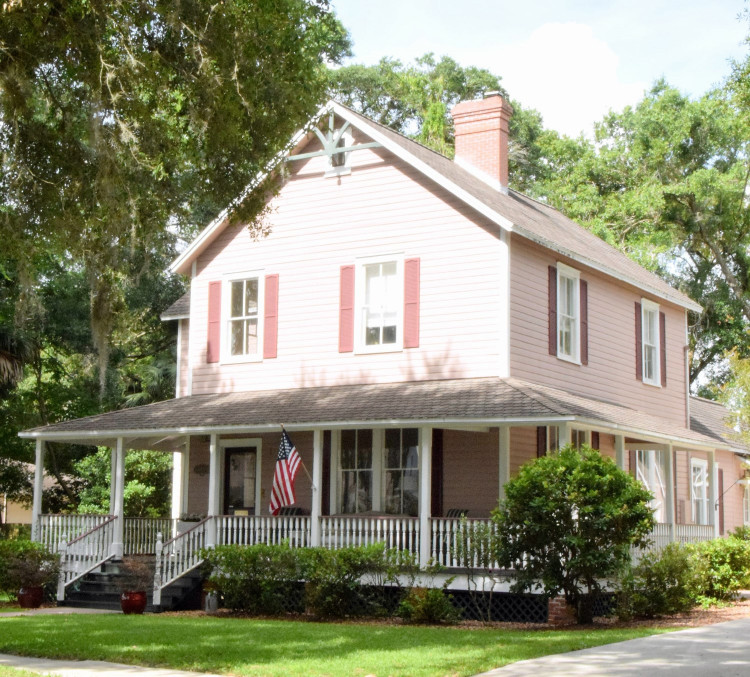 technique employed by lay or self-taught builders who relied on local materials and their own designs. Common features include pitched roof, wrap around verandas, double-hung sash windows and wood drop siding. This home has cypress siding, ten-foot ceilings and four working fireplaces. It was built by Samuel B. Wilson who was the first surveyor and tax assessor for Volusia County from 1892 to 1932. Samuel married Meddie Barber, 13th child of Moses Barber, the cattle baron who was sympathetic to the Confederacy and supplied much of the beef to the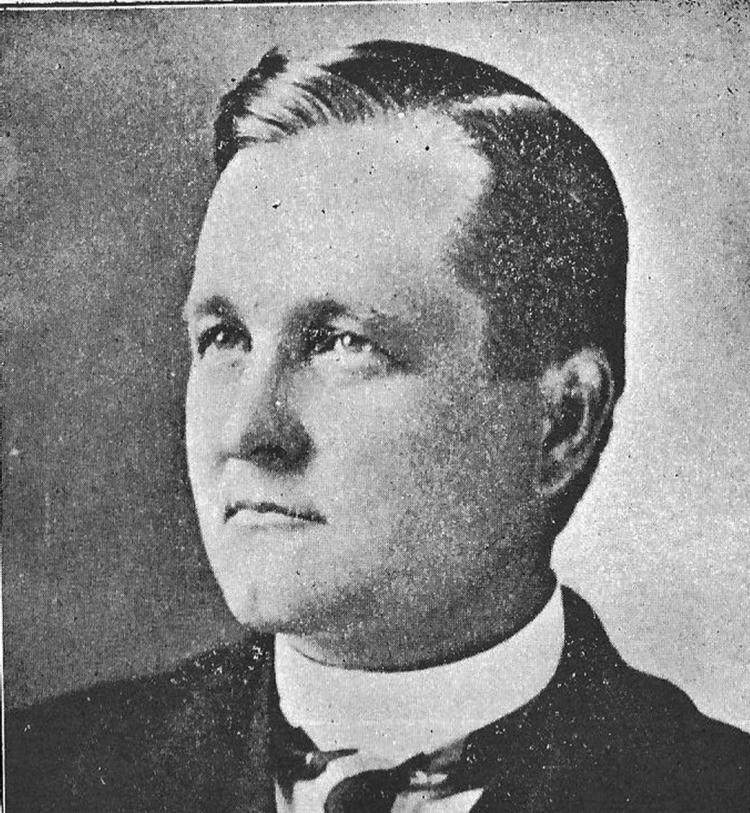 Confederate Army. Refusing to pay taxes, Moses Barber began a notorious feud with David Mizell - sheriff and tax collector. This dispute resulted in Mizell's death and a number others in the two families before it ended (it is said)through the marriage of a Mizell to a Barber.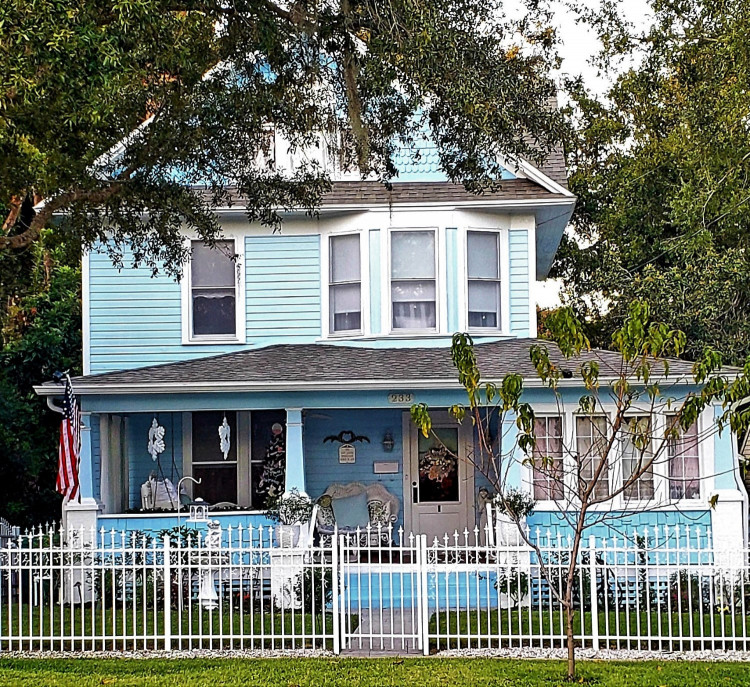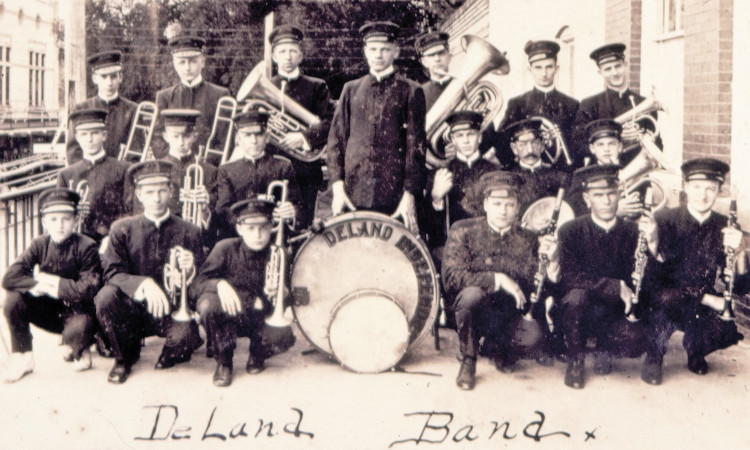 This wood frame home with a second story polygonal bay with three double-hung sash windows, has a prominent hip roof veranda porch that wraps around. The porch on the east end was enclosed in later restorations. It was probably built between 1909 and 1915 and is similar in size and design of other buildings on its street. The original owners were likely pioneer grocer R. C. Bushnell and his family. Bushnell formed the DeLand
This Frame Vernacular was built in 1893 and was featured in the 1898 edition of the

Florida Agriculturist

. Frame Vernacular was a common wood frame construction
Concert Band in which son Rossie and future son-in-law J.J Tillis Jr. were members. Daughter Emma married Tillis and they became the home owners. Jay got his flying license about 1917 and in the early 1920s built and flew (at least once) a bi-plane powered by an Indian motorcycle engine.
Built about 1906, this two-story wood frame residence has Colonial Revival styling expressed by its gabled roof, chimney and wood weatherboard exterior. The first owner was probably Mrs. Mazura Carter Coleman and her four children. She came to DeLand hoping to assure a bright future for her children; she must have been proud. Most graduated from Stetson and had careers that took them to locations around the world; the three sons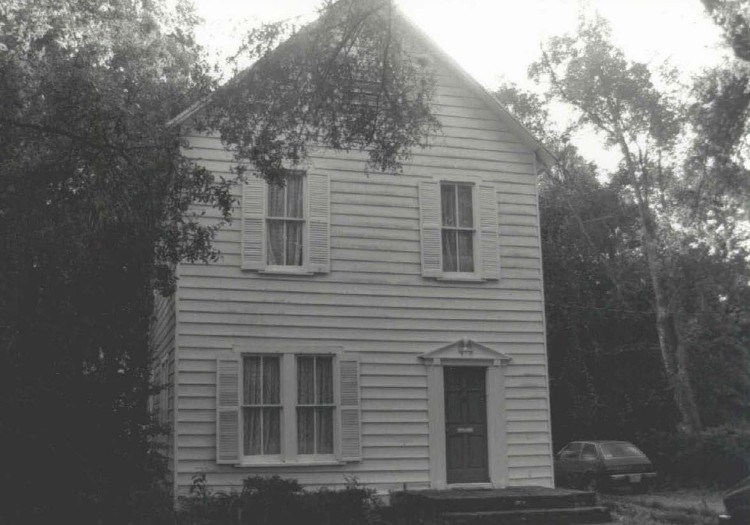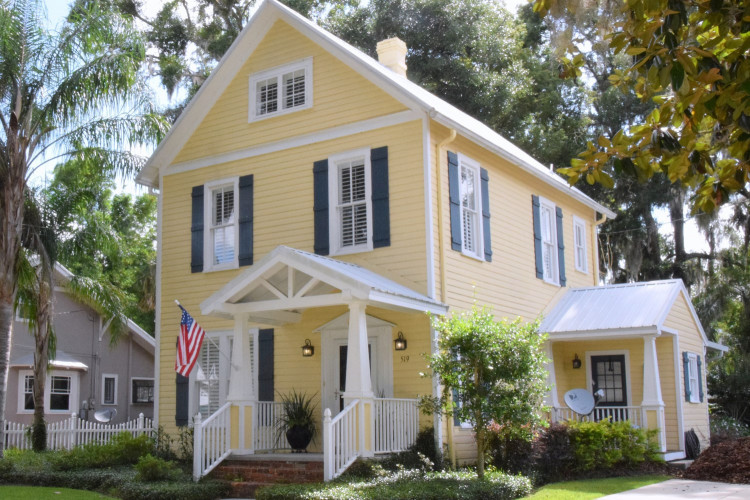 Early picture of the house
served in WWI. George W. (SU Law School grad) went on to found a prominent law practice and was FL State's Attorney. Later after moving to Moore Haven, FL, Mrs. Coleman died an untimely death when a gasoline iron which she was using exploded, resulting in a fire that burned the greater part of the business section in that town.